Orangedale: Orangedale Railway Museum
(Cape Breton Island)
Orangedale Railway Museum, Inverness County, Cape Breton represents a now unique, High Victorian style station built to a standard pattern in 1886 by the Intercolonial Railway Company. The Rankin Family's song "Orangedale Whistle" evokes the spirit of this rural station found four miles (6.4 kilometers) south from Exit 4 off the Trans Canada Highway.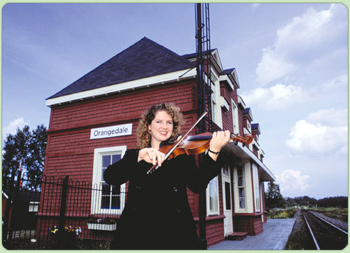 Visitors will see the stationmaster's work place where tickets were sold and parcels and telegrams sent and received. Often telegraph demonstrations are given by the station agent on duty. The Ladies' Waiting Room displays an assortment of railway artefacts including a model of the Grand Narrows (near Iona) Railway Bridge. Original station lamps and a large locomotive bell are housed in the Express/Baggage Room.
The entire second floor was an apartment for the stationmaster and his family. You can see some of the original furniture, period furnishings, railway uniforms, artefacts found when the station platform was replaced and many historic pictures.
Outside is a replica freight shed and a number of pieces of rolling stock from a bygone era including a snowplow, boxcar, wooden caboose, industrial locomotive and speeder. On special days the locomotive and snow plow are operated.
Special events bring life and laughter to the station during the season as railroaders and enthusiasts gather to relive the heyday of the station.
---
Addition Information:
20 Parking Spaces
Bus Tours Welcome
Gift Shop
Picnic Area
Public Washrooms
Guides
Donations Welcome
Beach


[ Home Page | Major Museums | Attractions | Resources | Information | Events | Q&A ]

Copyright 2006, the Nova Scotia Railway Heritage Society, all rights reserved.
Last updated 03 April 2011.