History of Railways in Cape Breton and of the station
The railway lines on Cape Breton Island, Nova Scotia, and a dozen stations of the Intercolonial Railway System, were constructed in the 1880s and early 1890s. Orangedale Station, built in 1886, was the most important railway station between the Strait of Canso and Sydney. It served the communities of central Cape Breton Island in the two Counties of Inverness and Victoria and people travelled up to 100 miles (160 kms) to reach the station.
The location of the station had been chosen at what had previously been a farming community. It soon became the centre for the developing village of Orangedale, with the station only a three-minute walk away from the village's wharf at the Bras d'Or Lake.
Once limited to time-consuming transportation by horse and wagon, thousands of people and tons of freight passed through the station on their way to larger centres of the outside world.
Now enterprises such as the Glendyer Mills could ship woollen weaving to markets, including the Chicago and San Francisco World's Fairs. Other businesses could ship lumber, oysters, livestock, bricks, crops, barite and iron ore. Even shipments to Eaton's in Moncton could be delivered in 2 days.
Alexander Graham Bell and his family were often among the passengers who arrived at the Orangedale Station, to continue their way from here to Baddeck by road. Everybody was now able to purchase a ticket from Orangedale to any part of the world.
The Orangedale Station is the only remaining one of the Intercolonial Railway Stations built on Cape Breton Island and has been meticulously restored and preserved in mint condition.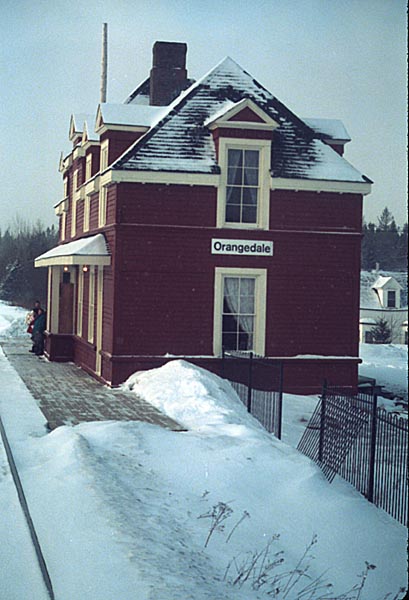 The station was constructed by the Intercolonial Railway in 1886. The Intercolonial Railway was absorbed by Canadian National (CN) in 1922 and the station was in continuous operation until January of 1990. The last two years of the station's operation were under the management of VIA Rail. This station served a very large rural area and in the early years people came from miles around in their horse-drawn wagons or sleighs, or by foot to catch the train. In its heyday (1930s to 1950s), this station was served by six passenger trains (three in each direction) and up to twenty freight trains daily. This station was also a busy shipping point for lumber, oysters, pit props, Christmas trees and other local products. Incoming carloads included flour, feed, gasoline, western horses, automobiles, machinery, and various shipments of merchandise for the local stores.