Map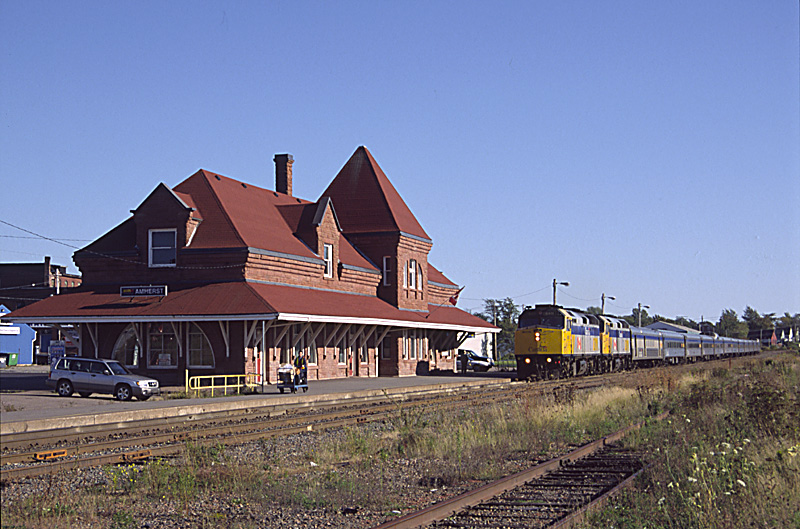 19 Amherst
VIA Rail Station, in use by railway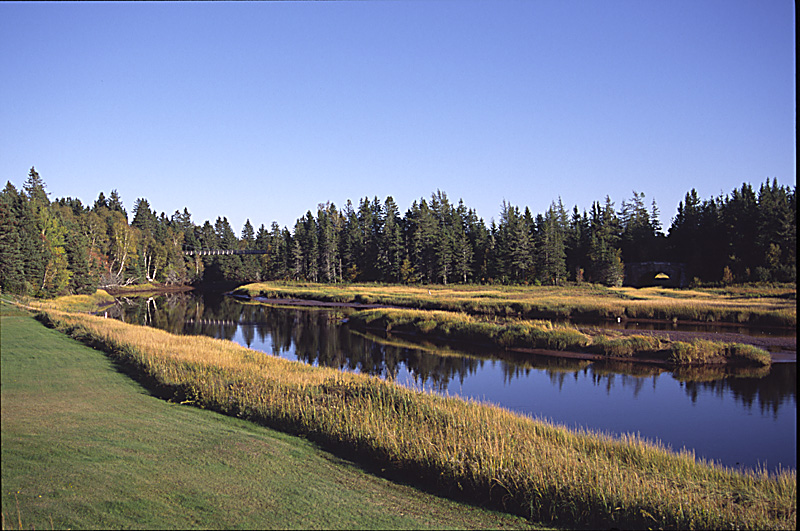 21 Tidnish Dock
The remains of one of Nova Scotia's most ambitious engineering projects may be seen at Tidnish Dock Provincial Park. It is the eastern terminus of a never completed 28 km railway designed to transport ships from the Bay of Fundy. Walk the trail to Tidnish Bridge and the local Visitor Information Centre.
Route 366 at Tidnish Cross Roads.
Call 1-902 661-8667.
Open: mid May to mid October- please call for hours.
For more information about the Chignecto Marine Railway click here. Note this is an Adobe file.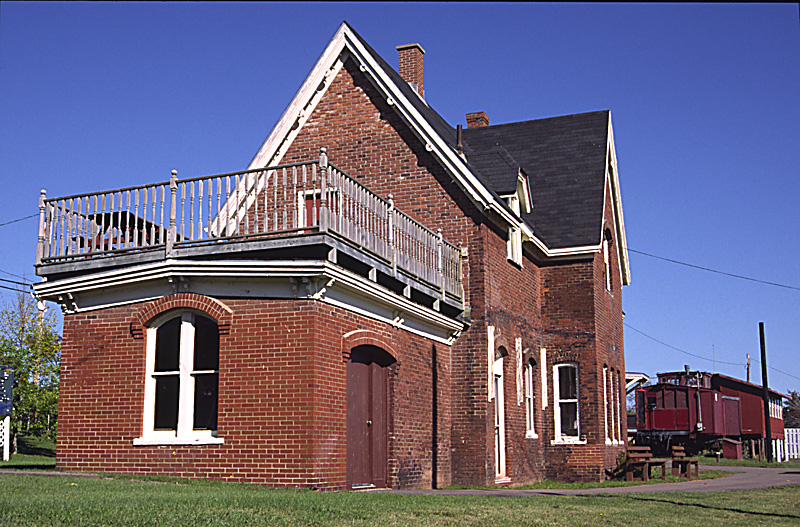 22 Pugwash
CNR Station, public library, C@P site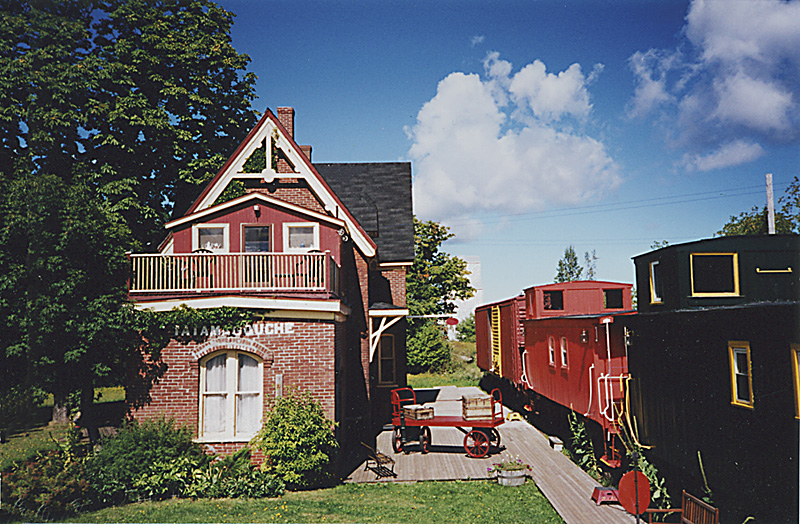 23 Tatamagouche
Train Station Inn.
21 Station Street off Route 6.
Internet access. Call 1-888-724-5233.
Open: May to October –  Daily 8 to 8; November to April by appointment.
Tatamagouche
This car was built in Amherst by Rhodes & Curry in 1905 as the Government of Canada Official Car "Alexandra". In 1929 it became CN car 100. After several number changes it became part of the Discovery Train in 1982 and then went to the National Museum of Science & Technology in Ottawa and finally returned to its birthplace – the town of Amherst where it was used as a welcome bureau. The Nova Scotia Railway Heritage Society has now purchased the car and moved it to the Train Station Inn in Tatamagouche where it will be restored. For more information about "Alexandra" click here and for Project Updates click here.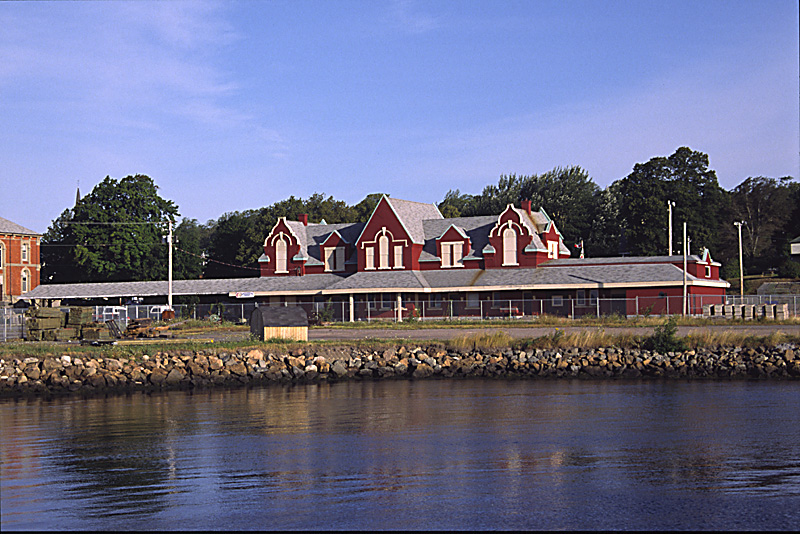 24 Pictou
The Pictou station of 1904 is modelled after 19th century English stations that owed their Elizabethan style to nearby country estates. Formerly the departure point for Intercolonial Railway trains connecting with steamers for Charlottetown, PEI, the station overlooks Pictou harbour and now houses the Northumberland Fisheries Museum.
71 Front Street. .
Call 1-902 485-4972. Admission Charged.
Open: mid June to mid October –
Monday to Saturday 9 to 6; Sunday noon to 5.
The town web site includes a photo of "The Atlantic arriving at the CNR station (1908)". To see the photo click here.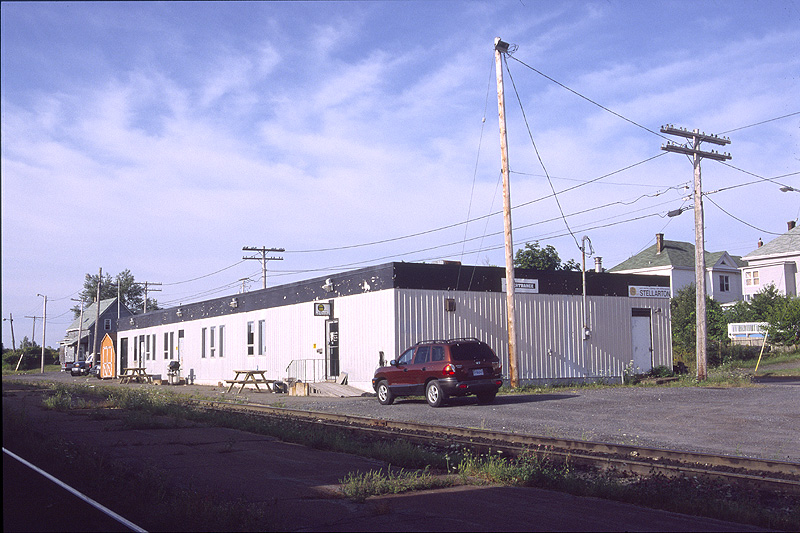 25 Stellarton
CB&CNS Station, in use by the railway.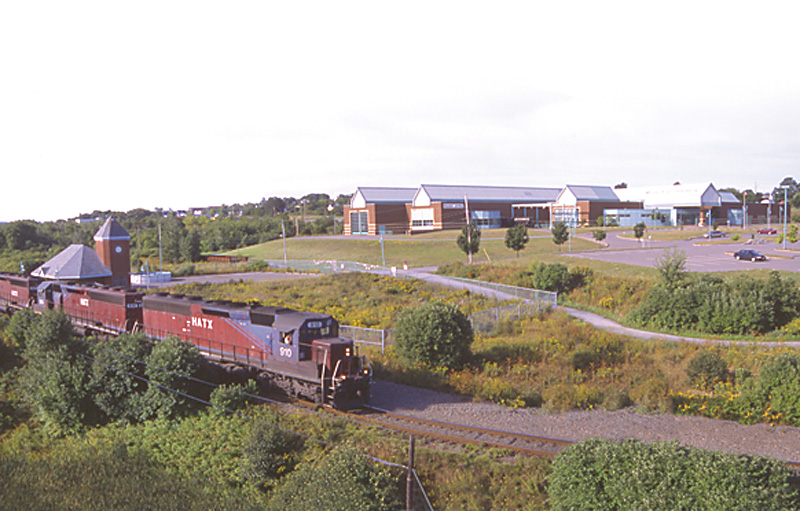 26 Stellarton
The Nova Scotia Museum of Industry.
Trans Canada Highway, Exit 24.
Call 1-902 755-5425 for rates and hours.
Open: Year Round.
The former VIA Rail station is located on the museum site.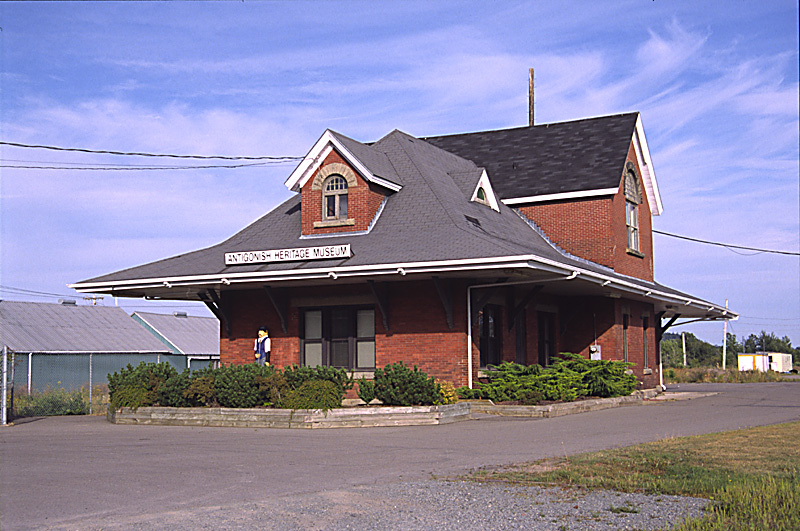 27 Antigonish
This Intercolonial station was built in 1908 and was active until the end of VIA service in early 1990. The Antigonish Heritage Museum features displays of local cultural material and welcomes researchers in their resource room.
20 East Main Street,
(Trans Canada Highway Exit 32 to Route 337).
Call 1-902 863-6160.
Open: Year Round – July & August Monday to Saturday
10 to 5; September – June please call.
For more information click here.