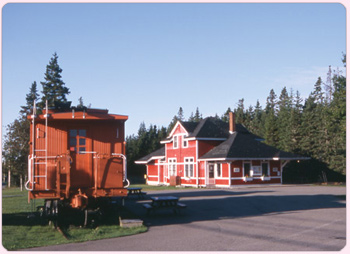 43 Musquodoboit Harbour
The Musquodoboit Harbour Museum.
Route 7.
Call 1-902-889-2689.
Open: July 1 to at least Labour Day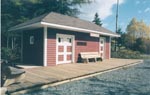 Petain Station – West Chezzetcook
Replica station built as an Interpretative Centre and trailhead as part of the Rails to Trails initiative by the West Chezzetcook/Grand Desert Community Interest Group. The Blueberry Run is part of the Trans Canada Trail.
As a result of the damage from Hurricane Juan and extensive vandalism the trail has been closed and has until further notice been taken over by the Department of Natural Resources.They are permitting heavy logging vehicles to use sections of the trail as a forestry road to access private lots that are being clear cut.
The photos show the station before the vandalism and hurricane.
For more information contact Roger Belanger who kindly notified us about this project.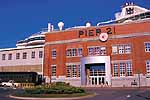 44 Halifax – Pier 21
Pier 21, a National Historic Site on the Halifax waterfront, welcomed over a million immigrants to Canada from 1928 through 1971. It saw 494,000 Canadian troops depart for Europe during World War II. Experience a unique 24-minute 4-D multi media production, take a simulated railcar across Canada in 5 minutes and enjoy interactive displays that recall the days when this building was a point of departure for many a railway journey to a new life in Canada.
1055 Marginal Road, Halifax.
Call 1-902 425-7770. Admission charged.
Open: Year Round, Please call for hours.
For more information click here.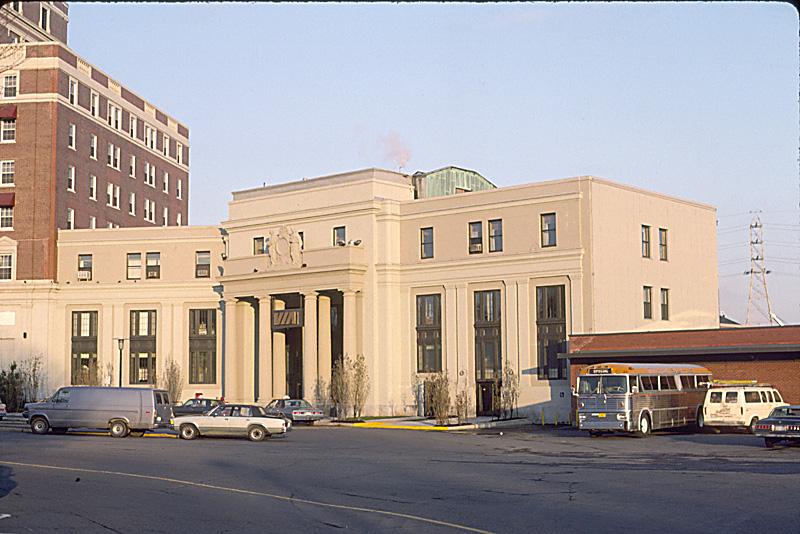 45 Halifax – Train Station
The VIA Rail Station of 1928 is the eastern terminus of the Ocean that connects the Maritimes by rail with Montreal, Quebec. The adjacent Westin Hotel, a former CN property and nearby Pier 21 are major components of the Halifax Ocean Terminals. DRL Coach Lines and Acadian Lines also operate from this splendidly restored building.
Hollis Street.
Call 1-888-VIA-RAIL.
Open: Year Round, Daily 11 to 6.